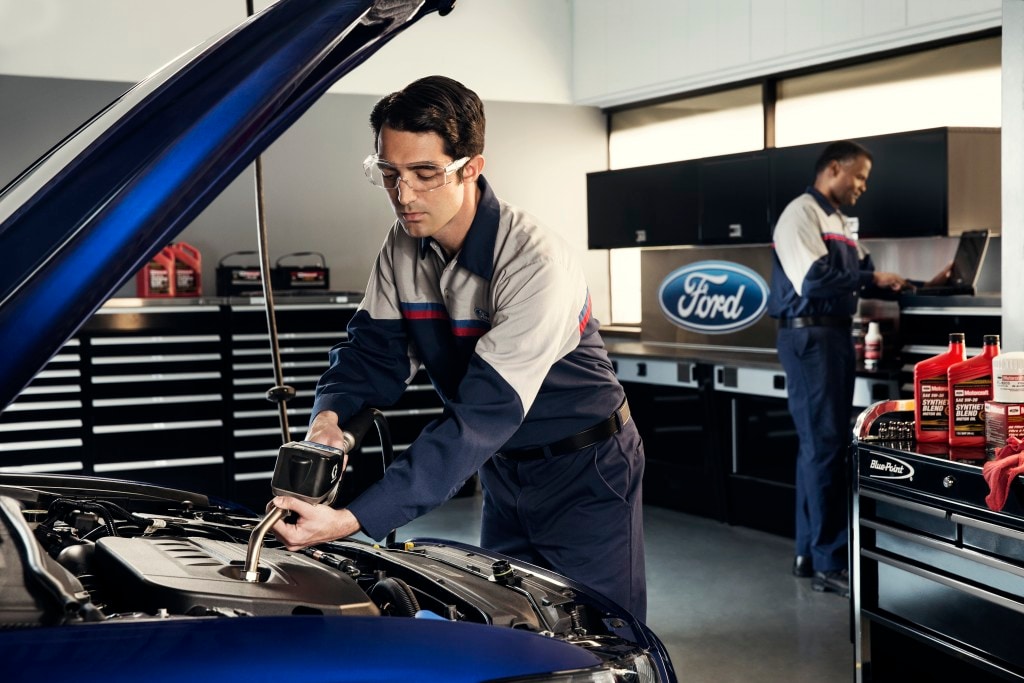 Have Your Ford's Oil Changed by the Pros in Our Service Center
Not many things are guaranteed to help extend the life of your vehicle. Fortunately though, keeping up on your vehicle's oil changes is one of them. Not only will having your vehicle's oil changed regularly help decrease the chance of engine problems, but it will also help you to avoid any costly fixes in the future. Read on below to learn more about the benefits of having your Ford's oil changed on a regular basis:
Improved Engine Performance: Having your car's oil changed on a regular basis will help to keep the internal parts of its engine clean and lubricated so that your car can provide you with a smooth, quiet ride.
Avoid Dirt and Debris Buildup: Old oil is expected to have a certain amount of dirt and debris mixed in to it. Fortunately, having your Ford's oil changed on a regular basis will help protect your car's engine from those harmful particles.
Improved Fuel Efficiency: No one likes a gas guzzler! That's why oil changes are so important. Not only will it help to protect your engine from harmful debris, but it will also improve your cars fuel economy ratings.
Extend the Life of Your Engine: Your vehicle is guaranteed to last much longer if you get its oil changed regularly. Keeping up on this vital service is the best way to lubricate and protect your engine and will help guard against engine wear and breakdown.

If you would like to learn more about the importance of having your car's oil changed on a regular basis, then we invite you to stop in to our Service Center today. It can take more time to change your oil at home, but we work quickly to get you back on the road when you have your routine service done with us. Here at Auffenberg Ford North, we're proud to provide our Belleville, Granite City, Collinsville, Fairview Heights and St. Clair County area customers quality oil changes in O'Fallon, IL.