Why does my car shake when braking? There are many potential reasons that your car trembles as you come to a stop during your O'Fallon commutes, with some of the most common factors involving your brakes, your tires, and your suspension. Find out why your car is shaking with the technicians at Auffenberg Ford O'Fallon.
Brakes
If your car trembles when braking, it may be necessary to go directly to the source: the brakes. Warped or damage brake rotors are the number one cause of a shaking vehicle. These components work in conjunction with your brake pads to stop your wheels from spinning. A few issues that arise include:
Wear and tear over the years make rotors become thinner and thinner.
Excessive heat can warp the rotors, which in turn makes the brake pads slip.
Typically, brake rotors are replaced by the time you reach 70,000 miles, but this ultimately depends on where you live and how you drive. Taking advantage of the professional brake service available at Auffenberg Ford O'Fallon will help to keep your car running smooth and safe.
Tires & Wheels
Tire or wheel problems can also cause shaking as you slow down. Common causes include:
Wheels out of alignment
Older, worn tires
In either situation, your suspension must work to keep your vehicle balanced, which is why you feel quivers while braking. The good news is, tire alignment inspections occur during tire rotations, which takes place during routine oil changes at Auffenberg Ford O'Fallon.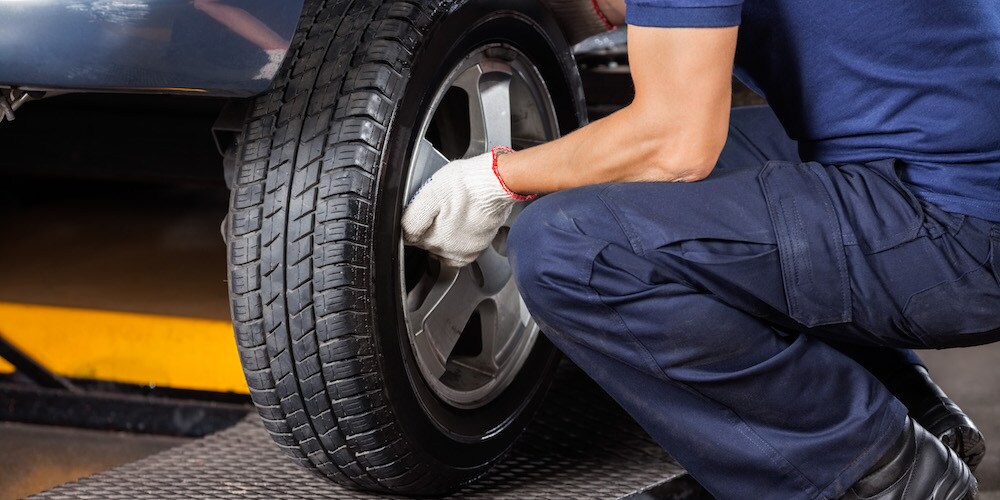 Steering and Suspension
When there's an issue with your steering or suspension systems, you won't only experience your vehicle shaking when braking, you'll also feel trembling in the steering wheel during regular driving around Collinsville. In addition, certain damaged components, such as an axle shift, can cause the vehicle to shake when stopping. 
Our expert technicians will inspect your suspension during your next scheduled tire rotation to detect any problems. Steering or suspension issues can also present as noises while turning.
Schedule Service at Auffenberg Ford O'Fallon
The certified technicians in our Service Center are ready to diagnose and address why your car shakes while braking, how your timing belt should work, and so much more. Contact us at Auffenberg Ford O'Fallon to schedule service near Fairview Heights today!