---
What is a timing belt for your car? A timing belt is a thin material that holds then synchronizes the crankshaft and camshaft rotations. Whether you call them timing belts or cambelts (timing chains for engines with large strokes and bores), the belts are vital to a full functioning internal combustion engine system. The timing belt keeps the crankshaft and camshaft rotation in sync to ensure that the pistons and valves function. Some cars have a rubber belt or a timing chain, but engine valves will push pistons down as the fuel ignites in the combustion chamber. Read on to learn about your timing belt on your new or used vehicle with Auffenberg Ford North in O'Fallon near Collinsville. 
How Much Is a Timing Belt? 
How much is a timing belt? If you're a Fairview Heights driver and see that your valves refuse to open and close at the correct synchronized time, your timing belt is broken. The pistons, water pump, and valves will be damaged which can lead to repairs that cost $2,000+. If there is no damage, Granite City drivers may only pay between $500 to $1,000 for labor and parts. Most service experts and manufacturers recommend replacement between every 60,000 miles to 100,000 miles.
When You Should Replace Your Timing Belt
Now that you've answered, "What is a timing belt?" and "How much is a timing belt?", you should know when to replace your timing belt! Whether the timing belt is a timing chain or rubber belt, the signs for replacement are noticeable. Contact our service center for assistance, then check out our parts center:
Engine misfire
Abnormal fuel and smoke amount
Oil leakage from the front motor
Ticking noise coming from the engine
Dead engine
The engine acts up between 2000 - 4000 RPM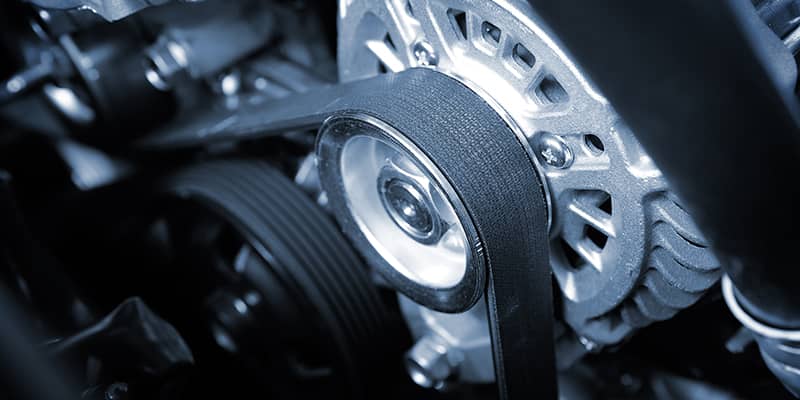 Timing Belt vs. Serpentine Belt
The serpentine belt essentially powers the steering pump, alternator, air conditioning compressor, and more as it helps play a vital role in your Ford's engine block. The timing belt just helps to keep your camshaft and crankshaft in sync.
Check Out Service Specials Online at Affenberg Ford North! 
Rely on our experienced mechanics for further information about timing belt functions or general service details. Contact us at Auffenberg Ford North in O'Fallon for our service specials information!