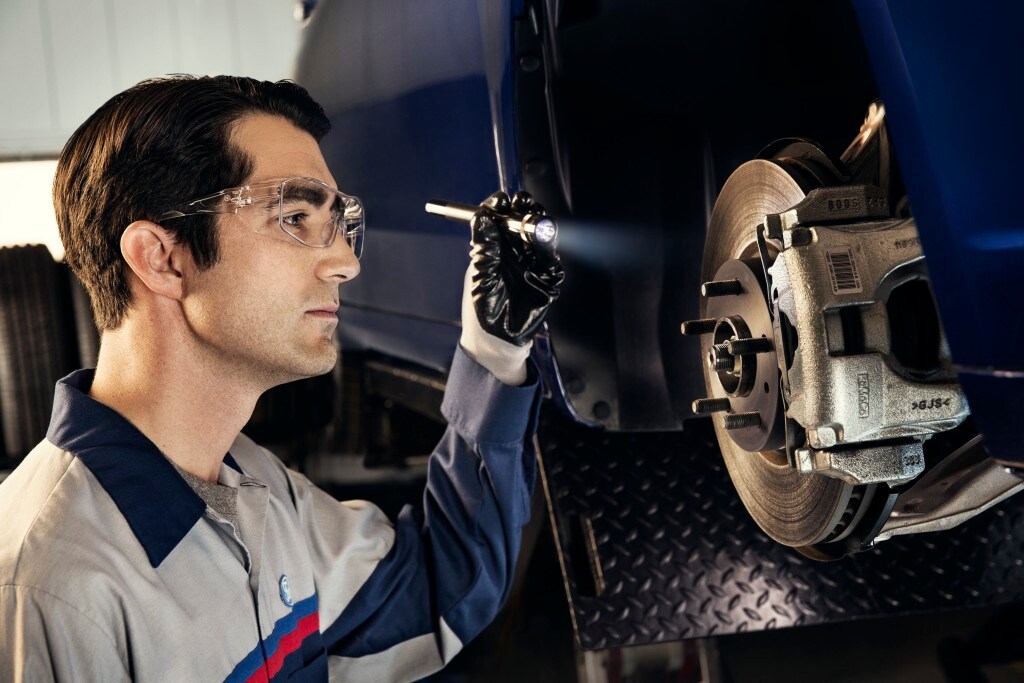 Learn More About the Importance of Your Ford's Brakes
Here at Auffenberg Ford North, we find that many of our customers take their Ford's brakes for granted. Whether you're stopping for a red light or are simply slowing down due to the car ahead of you, your car's brakes are what make doing such a thing possible. Being able to slow down, even at a moment's notice, is vitally important when hitting the road and makes for a much safer ride. As you can imagine then, old or improperly working brakes can have a rather unsavory impact on your car's ability to keep you safe. So, what can you do to ensure the quality and dependability of your brakes? Read on below to find out...
Regular Brake Inspections: Our team recommends having your Ford's brakes inspected on a regular basis. Simply bring your Ford by our Service Center and we'll check all of the components of your car's brakes to make sure that they're working properly.
Brake Replacements: How often should you have your car's brakes replaced? If there is 1/8 inch or less of your brake pad's lining remaining, or if you've driven a minimum of 25,000 miles, we recommend visiting our Service Center to find out if it's time to replace the brakes on your Ford.
Don't Ignore the Signs: Whether your brake light has come on or you've had difficulty stopping your vehicle in the past few days, we urge you to stop by our Service Center to have your brakes inspected. That goes double for shaking while braking. We can assure you that doing so will cost much less in the long run than if you ignored the signs.

If you're interested in having your brakes serviced or replaced, we invite you to stop by the Service Center at Auffenberg Ford North today. Just down the road from Belleville, Granite City, Collinsville, Fairview Heights and St. Clair County, our team looks forward to welcoming you in to our O'Fallon, IL Ford dealership soon.