No matter if you're the owner of a new, used, or certified pre-owned model, expert Ford service keeps your vehicle running at its best on Granite City roads. As you continue to rely on your Ford to keep you moving, our team is here to break down the exact services you'll need to recharge and refuel your vehicle along with a range of Ford extended services and warranty coverage options. Learn more about the specific mileage intervals and additional benefits you can add to your Ford scheduled maintenance guide with the service professionals at Auffenberg Ford O'Fallon.
What Ford Service Does My Vehicle Require Next?
When it comes to Ford service, you should always expect to have routine maintenance tasks such as oil changes, filter replacements, and tire rotations are done three or four times throughout the year or every 7,500 to 10,000 miles. This mileage interval also serves as the baseline for your Ford scheduled maintenance guide with some additional services you'll want to have on your list next time you bring your vehicle in. See below:
Every 7,500 to 10,000 miles: 
Multi-point inspection
Lubricate unsealed joints
Brake and parking brake inspections 
Exhaust system and cooling system inspections
Once your vehicle has reached 100,000 miles, you'll want to continue having your regular Ford service done every 7,500 to 10,000 miles, however, you'll want to be sure to include these other important maintenance checks within your Ford scheduled maintenance guide in order to address other vital components of your Ford sedan, SUV, or truck. See below:
Every 100,000 miles: 
Every 120,000 miles: 
Replace engine air filter
Every 140,000 miles: 
Inspect accessory drive belts
Every 150,000 miles:
Replace accessory drive belts
If manual transmission, replace fluid
Replace orange coolant
Change engine air filter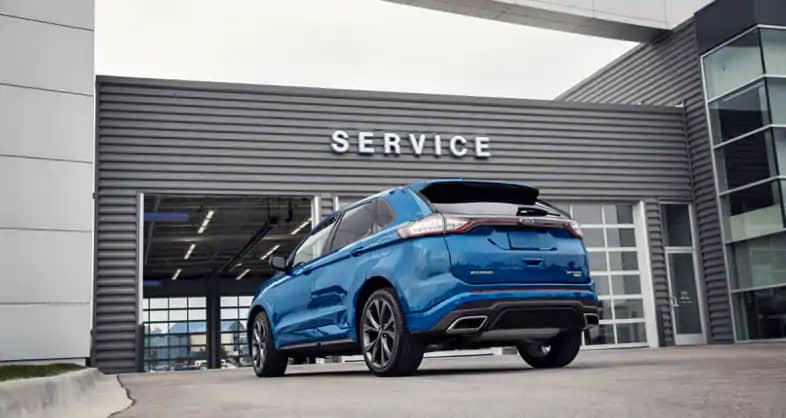 Extended Ford Service and Warranty Coverage
Along with your Ford scheduled maintenance guide, your vehicle will also have additional protection and coverage on Fairview Heights roads thanks to their outstanding 3-year/36,000-mile factory warranty and 5-year/60,000-mile powertrain warranty options. In addition, drivers can choose from four unique Ford service plans that build upon each other to deliver more benefits and advantages when it comes to maintaining care of your vehicle. These include:
 
PowertrainCARE: This plan covers 29 components of your Ford within the engine, transmission, RWD, and FWD.
 
BaseCARE: The BaseCARE Service Plan bumps you up to 84 covered components with additions such as steering, brakes, front suspension, A/C and heating, and electrical components.
 
ExtraCARE: The ExtraCARE plane includes coverage for 113 components related to your tech and convenience features such as keyless entry and power window motors.
 
PremiumCARE: The PremiumCARE plan covers over 1,000 components of your Ford to provide the ultimate care and maintenance for your vehicle. 
Rely on Trusted Ford Service at Auffenberg Ford O'Fallon
Now that you know how the Ford scheduled maintenance guide can keep your own model running at its best on Collinsville roads you can always find trusted service and maintenance at Auffenberg Ford O'Fallon. Our team of certified technicians will have you back behind the wheel in no time and offer plenty of savings with our Ford service specials. Contact us today on the Ford F-150 bed sizes and to schedule your next service appointment at our Ford dealership!