If you're searching for a new Ford truck in the Collinsville area, you may be wondering about the pros and cons of Diesel vs. Gas trucks. Our new pickups offer both diesel and gas options, so let's dive into the details to see which type of truck will best suit your needs. Explore the pros and cons of diesel vs. gas trucks below, and let us know if you have any questions about lifting your truck or simply want to know more about our truck inventory!
Diesel vs. Gas Trucks Pros and Cons
Diesel Truck Pros
 
Towing Capacity & Power: Because diesel trucks are typically able to generate more torque than gas trucks, diesel trucks are the best option if you need more towing power for your Granite City jobs. Diesel trucks are great options for work trucks or transport vehicles. In need of a powerful pickup? Explore the towing specs of both the Ford F-150 and the Ford Ranger.
Fuel Efficiency: While trucks aren't always the most fuel-efficient models, diesel engines are usually more fuel-efficient than their gas counterparts. While diesel fuel costs more than regular gas, relying on diesel power means you'll have to make fewer stops for fuel on Fairview Heights commute.
 
Reliability: Diesel engines typically last longer than gas ones. Diesel engines have a simpler construction and stronger engine blocks, thus increasing their longevity. If you maintain your diesel truck, your vehicle is capable of making it over 500,000 miles.
Gas Truck Pros
Horsepower & Acceleration: While diesel engines are superior in terms of torque, daily O'Fallon drivers who don't need trucks for work may prefer the advanced horsepower and acceleration of a gas truck. While diesel engines have the advantage of towing power, gas trucks are a bit speedier.
Convenient Fueling Stations: It can sometimes be tough to fill up a diesel truck because not every gas station offers diesel fuel. If you want to take advantage of more convenient fueling, a gas truck may be the best option for you.
Lower Maintenance Costs: Diesel engine parts are typically more heavy-duty, meaning they can sometimes be more expensive or more difficult to find. This means that choosing a gas-powered truck could mean cheaper maintenance costs.
Gas and Diesel Engine Comparison
If you're still curious about diesel vs. gas trucks, or still need help choosing between the Ford F-150 XL vs. XLT, the experts at Auffenberg Ford North can help. Let's take a look at the pros and cons of diesel vs. gas truck technical components:
Whether you choose a gas or diesel engine, keep in mind that both types are internal combustion engines. This means that fuel is turned into energy inside of the engine itself. The opposite type of engine, an external combustion engine, produces heat in one location and is routed to the engine. So in this respect, both gas and diesel engines are similar.
If you choose a gas truck, you can expect your engine to compress air and fuel at a ratio of about 10:1. Diesel trucks, on the other hand, compress their own air/fuel mixture at a rate that falls between 15:1 and 25:1. This results in a hotter cylinder, which means that diesel fuel is self-igniting and usually doesn't require a spark plug.
Higher compression rates make for a smaller minimum-maximum temperature difference, which results in better fuel efficiency. This is why diesel trucks are known for having superior fuel efficiency to gas iterations.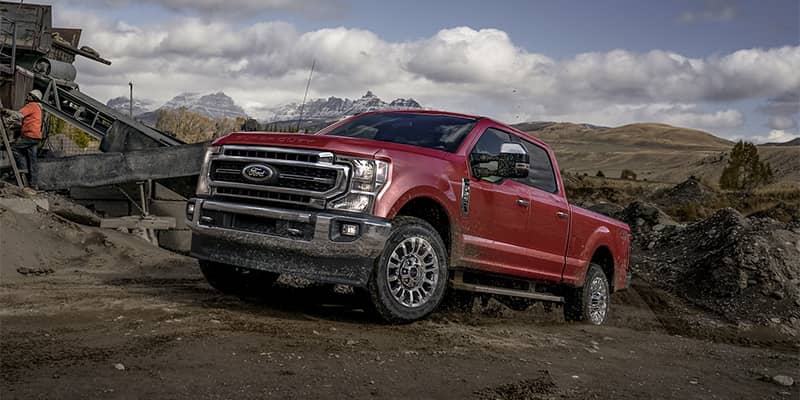 Which Ford Models Have Diesel Engines?
Whether you're comparing diesel vs. gas Ford trucks or seeing how Ford models compare against popular vehicles like the RAM 1500 or Chevy Colorado, you're probably wondering which trucks in our inventory offer diesel options. Gas is typically the standard, but you can find diesel engines on these vehicles:
Ford F-150
Ford F-250
Ford F-350
Ford Transit & commercial options 
Learn More about Diesel vs. Gas Trucks at Auffenberg Ford North!
Ready to drive home in a new truck? Whether you choose a gas truck or a diesel option, you can find what you need within our new vehicle inventory! And if you need help deciding between leasing vs. financing or have questions about no credit car financing, or finance department can help! Get in touch to learn more about diesel vs. gas truck options, how much it costs to lift a truck, and more.