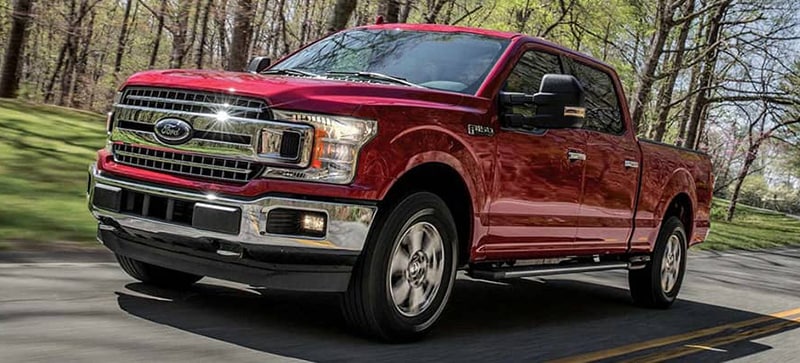 ?
We think there's no greater rivalry than between Ford and Chevy, not even the Hatfields and McCoys! We know that both Ford and Chevy make excellent trucks, as well as quality sedans and SUVs. Both brands deliver in terms of performance, reliability, and standard and available features. But we're here to settle this Ford vs. Chevy debate, and Ford simply gives drivers more.
Ford vs. Chevy: The Trucks
Lineup: The Ford truck lineup includes the Ford F-150 and Ford Super Duty, which includes both the F-250 and the F-350. The Chevy truck lineup includes the Chevy Silverado 1500, Silverado 2500HD, and Silverado 3500HD and the Chevy Colorado.
Construction: Ford trucks are made from aluminum, which means they have a lighter curb weight. Because they're lighter, they have a better fuel efficiency. Chevy did not initially accept the change in construction from steel to aluminum, but they eventually followed suit.
Sales: In 2017, Ford sold almost 900,000 F-Series trucks, whereas Chevy only sold a little more than 500,000 Silverados in the U.S.
Ford Truck Pricing: The 2018 Ford F-150 starts at $27,705 (MSRP) and the 2019 Ford Super Duty starts at $33,150 (MSRP).
Chevy Truck Pricing: The Chevy Silverado 1500 starts at $28,300 MSRP. The 2018 Chevy Silverado 2500HD starts at $34,400, and the 2018 Chevy Silverado 3500HD starts at $35,500 MSRP
Ford vs. Chevy: F-150 vs Silverado
The two most popular Ford and Chevy trucks in Fairview Heights and around the country are the F-150 and the Silverado. As we see though, the Ford F-150 proves to be the more affordable option, and there were almost twice as many sold in 2017. The Ford F-150 was also named the 2018 Motor Trend Truck of the Year.
Ford F-150 Specs
Engine Options: Six engines, including one diesel engine
EPA-Estimated MPG: 18 mpg/city and 24 mpg/highway
Seating: Six passengers
Infotainment: SYNC 3
Max Towing Capacity: 13,200 pounds
Ford F-150 Specs
Engine Options: Five engines, including one diesel engine
EPA-Estimated MPG: 17 mpg/city and 23 mpg/highway
Seating: Six passengers
Infotainment: Chevrolet MyLink
Max Towing Capacity: 12,500 pounds
So, Is Ford Better than Chevy?
Based on our battle of the brands, we have to conclude that Ford is better than Chevy. These stats speak for themselves. The F-150 proves to be the more fuel efficient option, while still providing more engines to choose from and a higher towing capacity. Not only that but there were more F-Series trucks sold in 2017. It's clear that critics and Collinsville-area drivers agree, when it comes right down to it, Ford is the way to go. We also have plenty of Ford crossovers and SUVs to choose from, too.