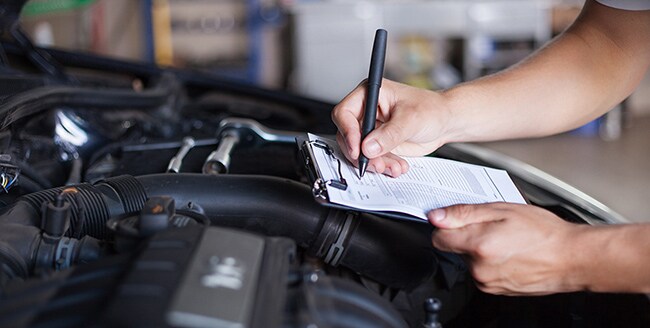 Does your week involve a similar commute each way, five days a week, and then somewhere a bit different on weekends? Your car maintenance schedule is going to be the same as the business owner driving from O'Fallon to Collinsville to Fairview Heights and back again -- so long as you remember the mileage you need for a given Ford service. And that's why we're here to help with a recommended Ford maintenance schedule.
How Often to Change Oil
Oil is the lifeblood of your car, keeping the engine run smoothly and ensuring metal glides instead of grinds. Running out of oil or running on old oil can cause severe engine damage. So, how often should you change your oil? As often as your manual recommends -- usually between 4,000 and 6,000 miles. Check your manual!
How Long Do Car Batteries Last?
Modern car batteries rarely require any maintenance, but they will eventually die. If you're fortunate enough to not deal with sudden cold snaps, an OEM Ford battery can last as long as 5 years. Once you hit that mark, we often recommend a new battery even if yours is doing fine -- the last thing you want is to be stranded with a dead car. It's always a good idea to regularlycheck for corrosion around the poles and other signs of wear.
How Long Do Windshield Wipers Last?
You should replace windshield wipers as soon as you notice them failing. There's no set mileage, but once you turn those wipers to "on" and see that you're only clearing some of the water off of your windshield, it's time. If your vehicle has spent the winter months in a particularly cold climate, the damage to the rubber could be significant, and we recommend inspecting windshield wipers as part of spring auto maintenance.
How Often to Change Air Filter
Engines, like people, need air to run. The modern car is designed to operate with air flowing into the engine bay, and if the air filter is obstructed, it can affect vehicle performance and fuel economy. We recommend changing your air filter as often as you have your oil changed, just so you don't put it off for too long -- that's every 4,000 to 6,000 miles.
How Often to Rotate Tires
When you buy new tires, they have a mileage limit on them, and it can range from 40,000 miles all the way up to 80,000 miles or more. You'll only reach that mileage if you regularly rotate your tires for even wear, every 5,000 miles or so. It's wise to regularly inspect your tires for signs of wear and tear as well as uneven wear, as those can be indicators of bigger problems.
Has Your Car Maintenance Schedule Come Due? Let Auffenberg Ford Help
If your Ford car truck, or SUV is in need of repair or inspection, visit the dealership O'Fallon drivers trust: Auffenberg. We have a talented team of professionals who can service your vehicle in the best possible way, and we always use genuine parts to keep your vehicle happy, from Focus to F-150. Schedule your service today.