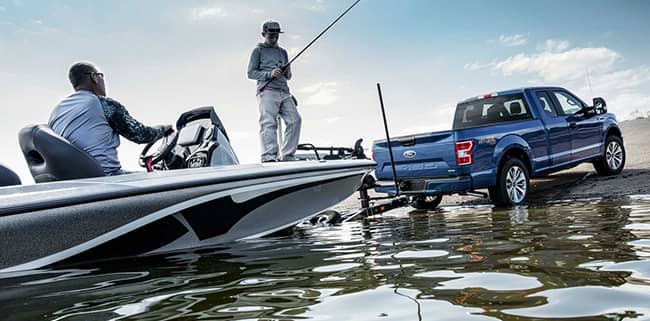 Some drivers can get by with the stock Ford F-150, happy with its best-in-class towing, but others need more. And when you need Ford performance parts, you need the ones that are truly Built Ford Tough: OEM parts. Performance isn't just about towing and hauling, sometimes it means making your Focus the fiercest thing on the streets. Auffenberg Ford is here to let you know some of our top Ford performance part options so you can leave other cars in the dust from O'Fallon to Collinsville.
Ford Towing Parts
While there's plenty to love about a stock Ford F-150, you're going to want to add some personal touches to make sure it's exactly the towing machine you need:
Cat-Back Extreme Exhaust System with Chrome Tips
Coyote "Powered by Ford" Coil Covers (Black or Blue)
F-150 Rear Lowering Kit
Ford Racing 9mm Spark Plug Wire Sets (Red or Blue)
Raptor Performance Steering Wheel Kit (w/Red Sightline)
If you just want to show off a bit, don't forget the F-150 Ford Performance Windshield Banner.
Focus Performance Parts
The average driver thinks of the Ford Focus as a simple, fuel-efficient sedan or hatchback, and we should let them keep thinking that. Ford drivers know that a Focus can be so much more, thanks to the ST. Looking to personalize your Focus or take it a step closer to the hot hatch world? Start here:
Focus ST Cold Air Intake Kit
Focus ST Short Throw Shifter
Focus ST Front RS Brake Upgrade Kit
Focus RS Drift Stick
SVT Decklid Emblem
Mustang Performance Parts
We can't leave out everyone's favorite pony car. If you're looking for Mustang performance parts, you've come to the right place. Favorites include:
Mustang Track Handling Pack
Mustang Street Handling Pack
Mustang GT Performance Intake
Mustang Supercharger Kit
Don't Settle for Aftermarket: Get OEM Ford Performance Parts at Auffenberg Ford Today
It can be tempting to buy an aftermarket part, but your Ford deserves better. Not only can you enjoy the benefits of OEM parts, you can trust your friendly neighborhood Ford dealer to install things for you. Order genuine parts from us, let our team install them, and then drive home happy. Schedule your service today.