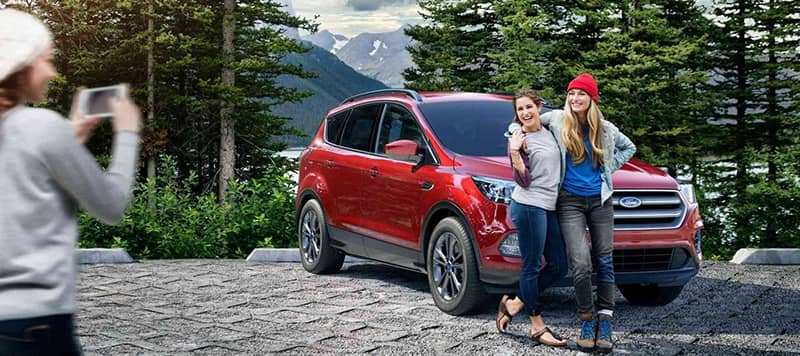 ?
If you're looking for good cars for college students, Auffenberg Ford O'Fallon can help. Whether you go to Southern Illinois University, St. Louis University, or somewhere a bit further north of us, we can help you narrow down your options. On top of that, our Ford College Student Purchase Program offers exclusive discounts on new Ford models. Find out more today!
Best Ford Vehicles for College Students
Explore these options for students from Collinsville and beyond:
2018 Ford Focus - This versatile car is available in sedan and hatchback configurations, and it starts at an economical $17,950 MSRP. Students will enjoy an Apple CarPlay or Android Auto connection that can make calls and stream music on the go.
2018 Ford Escape - The new Ford Escape is a smart choice for students who want the extra room of an SUV along with easy driving dynamics. In addition, an available Intelligent 4WD system ensures you can get to class at Southern Illinois College during the winter months.
2018 Ford F-150 - While the Ford F-150 might not be the first car you think of for students, it's the most popular vehicle in America for a reason. It's designed to last well after you leave the dorms. And with a starting price of $27,705 MSRP, is more approachable than you might think.
What Is The Ford College Student Purchase Program?
The Ford College Student Purchase Program offers a $500 discount for qualifying college students when you finance or buy with Auffenberg Ford O'Fallon. That can put upgraded models like the Ford F-150 Raptor within reach of more drivers. Find out who qualifies today:
Full or Part Time College Students
Graduate Students
Trade School Students
Recent College Graduates
Contact us if you have any questions about the program, or stop by our showroom in O'Fallon, IL.
Finance Your New Car
While some may think that car loans for college students can be tough to get, Auffenberg Ford O'Fallon disagrees. Our financing department is happy to work with customers with little or no credit history to get the vehicle they need. Whether you're financing a new Ford Edge or a used model, you deserve a fair interest rate. Apply for financing today!
Turn to Auffenberg Ford O'Fallon
If you have any questions, feel free to call us at 877-841-0458. We're happy to make a personalized recommendation on which Ford model will last you long after college is over.