Get Ready for the 2020 Ford Bronco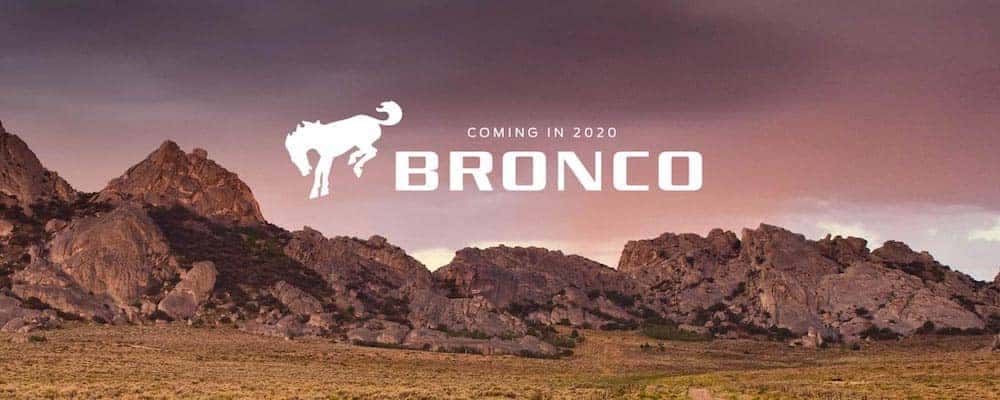 The Ford Bronco is a legend among Ford SUVs that dominated the 4×4 category for nearly three decades. Now Ford has decided to bring the Bronco back to impress a whole new generation of drivers in O'Fallon. Ford promises smart new technology and a rugged performance which means just one thing, 2020 is going to be the year of the Bronco.
New Ford Bronco: What We Know
There have been rumors swirling about what the 2020 Ford Bronco will look like and what features it will possess. While a lot remains to be seen, we do have some information we can confirm:
The 2020 Ford Bronco will be based on the 2019 Ford Ranger
The new Bronco will be available with some type of hybrid drivetrain
Dana has confirmed they will be supplying the drivetrain components for the new Ford Bronco
The size will fall between the 1980's Bronco II model and the original Bronco.
New Ford Bronco: What we Have Heard
As the release approaches, there have been details leaked from supposed sources close to the new 2020 Ford Bronco project. According to these sources the new Ford Bronco might:
Be getting a four-door and two-door version
There might be a manual Bronco model in the works
Drivers will likely find an off-road version of the new Ford Bronco
The Bronco could be getting upgraded solid front and rear axles
No matter what the future holds, you'll want to check our towing guide to outfit your new Bronco for hauling.
New Ford Bronco Release Date
While we don't have a solid release date yet, we do know that it's the 2020 Ford Bronco, which means you can anticipate it sometime in 2019 — we would guess sooner rather than later.
Ford Bronco Price
The current thought is that the price of the Bronco base trim will come in around $30,000, but we are still waiting on official word from Ford.
Keep Updated on new Ford Bronco at Auffenberg Ford North
If you want to keep updated on the latest Ford Bronco news, keep checking back with Auffenberg Ford North. Until then, if you are looking for a vehicle with cutting-edge technology like the FordPass App and Ford Sync with MyFord Touch explore the current Ford lineup available at Auffenberg Ford North. Our team can help you decide if it is worth waiting for the Bronco, or if a new Ford Explorer would fulfill your desires drive.